Thank you for your interest in supporting the ministry of WGCA. For your convenience, there are several ways for you to give. Gifts can be made with cash, checks, money orders, EFT/direct debit from your bank account, credit cards, or stock. You can also support us through planned gifts such as bequests, insurance policies, and trusts.
Trends in philanthropy show that more and more givers are opting for planned gifts to the non-profit charities they support. Through planned gifts, donors arrange future gifts to an organization. Here are some examples:
Gifts associated with a will and the final distribution of an estate offer a great deal of potential. A bequest, or gift by will, is an attractive option when a donor is currently unable to make an outright gift, but wishes to make a meaningful contribution to WGCA. A specific bequest involves donating a set amount or percentage of assets from an estate. Residual bequests are left after all debts, expenses, and taxes have been paid from an estate.
A gift annuity supports both you and us. It is a practical plan that supports your living needs by providing you with a regular return on your gift to the ministry of WGCA.
A trust is similar to an annuity in that it provides you with a regular return on your gift to our ministries. There are multiple variations of trusts, and we will be happy to meet with you to help you understand your options. A trust can be established with a minimum gift of $50,000.
You can purchase a life insurance policy in which you name WGCA as the owner of the policy in support of our ministry. Premiums on this type of policy are tax deductible.
This is a fast and secure way to make an outright gift or make a pledge that you can fulfill later. Use your credit card to complete this safe and secure online gift form. A pledge can be for one-time or monthly commitments. We have a Sharathon in October to cover the operational expenses of the station. Sustaining monthly pledges are renewed automatically each year until you notify us that you want to change the amount of your gift or discontinue giving. Please note that the minimum gift amount for one-time or monthly online gift is $5.
Many listeners still like to write us a check. Please include your phone number on all checks and your name, address, and phone number on all money orders. Send your check or money order, made payable to WGCA to:
WGCA
535 Maine Street, Suite 10
Quincy, IL 62301
Cash gifts in the form of United States currency are gratefully accepted. For proper processing, the name, address, and phone number of the donor are required. All donor information is strictly confidential and is not released to anyone or sold.
Money orders are treated as cash. Please make them payable to WGCA, 535 Maine Street, Suite 10, Quincy, IL 62301. Please include your name, address, and phone number to ensure proper processing.
We accept checks from most financial institutions in the United States. Please make checks payable to WGCA and mail to WGCA, 535 Maine Street, Suite 10, Quincy, IL 62301. To ensure proper processing, please include your name, address, and phone number on the check.
While WGCA would never encourage you to use a credit card to go into debt, we do realize that many of us use credit cards for convenience. Gifts are gratefully accepted using Visa and MasterCard. If you choose a monthly credit/debit card gift option, payments are processed on the 7th or 25th of each month.
To save postage, time, and insure they don't forget their monthly gift, more and more of our listeners are choosing EFT as a way to give to WGCA. Monthly gifts may be set up to be automatically debited from your checking or savings account. They will appear on your monthly bank statement as "WGCA." Simply decide on a monthly amount and the day of the month you wish to have your account debited (5th or 20th), print out the EFT Set-up Form, and mail the form, a check for the first month's gift, and a voided check for set-up of the remaining months, to WGCA, 535 Maine Street, Suite 10, Quincy, IL 62301. If you don't have internet capability, forms may be requested by calling us at 217-224-9422.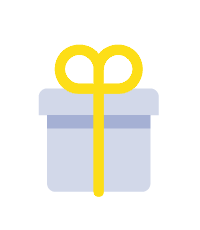 Matching gifts increase the power of your giving through your company's matching gift program. Many companies will match your gifts to charitable organizations, which can double or even triple your gift. Contact your Human Resources department or matching gift program administrator to find out more.
If you are 70½ or older you can lower the income and taxes from your IRA withdrawals with an IRA charitable rollover.
Benefits of an IRA Charitable Rollover
Help meet our mission and further the work of WGCA
Avoid taxes on transfers of up to $100,000
Taxable income reduction without itemizing deductions
Satisfy your required minimum distribution (RMD) for the year
Make a charitable gift that is outside of the 50% deduction limits
Contact your IRA plan administrator to make a gift from your IRA to WGCA.
WGCA gratefully accepts stocks and securities.
If you are gifting stock, contact our Stifel Financial Advisor for appropriate transfer information - David Oakley, 217 228-0053. Your stock/securities custodian will transfer shares accordingly.