OPERATIONS MANAGER/MORNING SHOW HOST
GREGORY HAUBRICH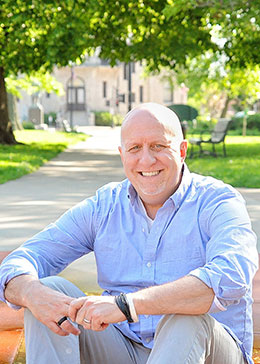 Our Morning Mix host and Operations Manager grew up in Quincy and has spent his career at stations around the Midwest.
Gregory is married to Victoria, an incredible wife, mother, and nurse.  They have 6 wonderful children combined – Shannon, Luke and his wife Jeanne, Benjamin, Ella, Reed, Jude, and a few grandchildren too!
In his free time, Gregory enjoys exercising, cooking, playing the guitar and keeping up with news and sports. He attends various local churches and loves to encourage others to a stronger relationship with Jesus!
Get up and get going with Gregory, weekday mornings in the Morning Mix!
Have I not commanded you? Be strong and courageous. Do not be frightened, and do not be dismayed, for the Lord your God is with you wherever you go.
Joshua 1:9
Be on your guard; stand firm in the faith; be courageous; be strong. Do everything in love.
1 Corinthians 16:13-14
On-Air Host (Weekday- -Morning/Afternoon )
Melissa Shriver-Hackamack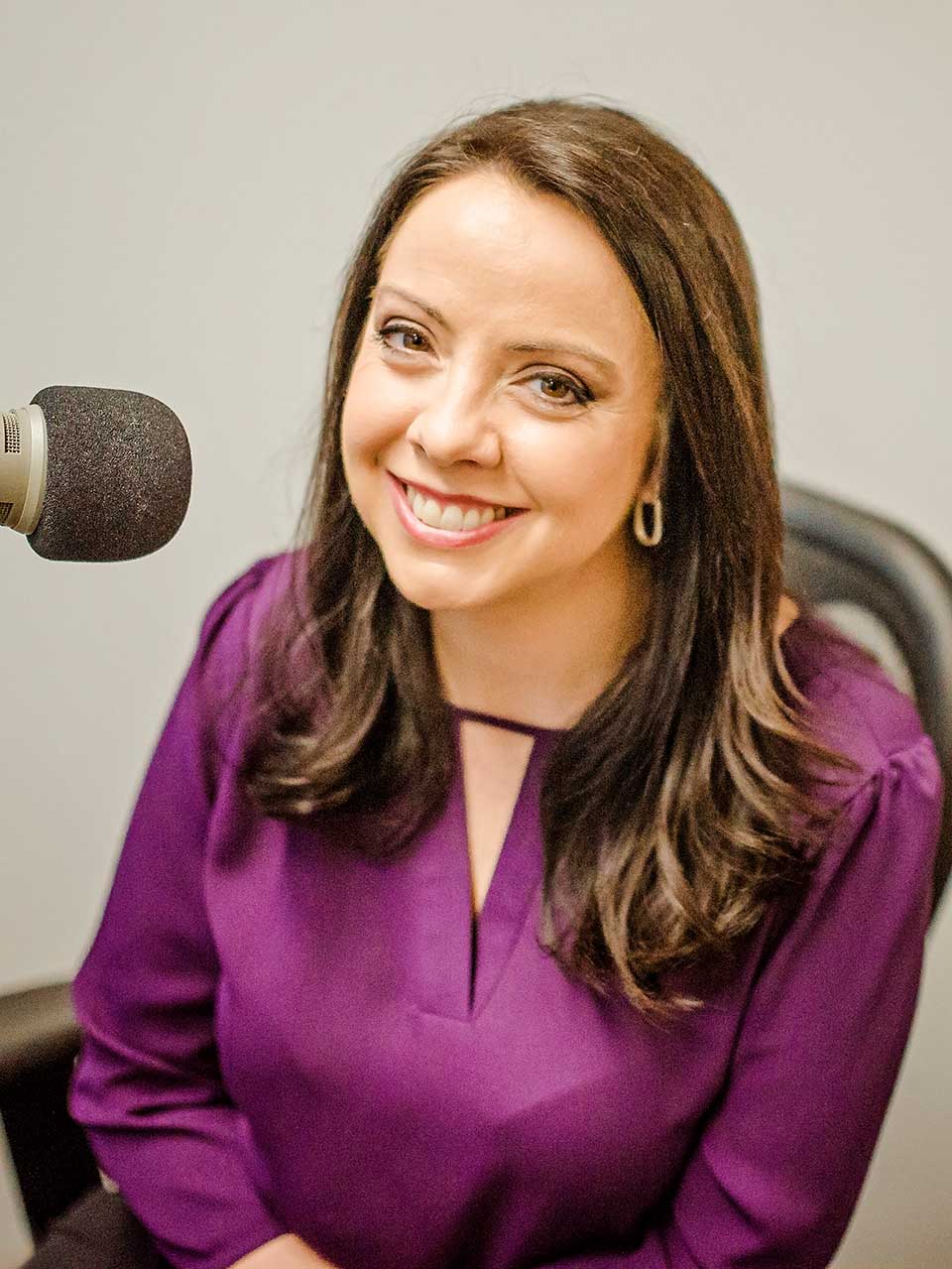 Melissa Hackamack wakes you up weekend mornings! Melissa grew up enjoying God's beautiful creation as a farm girl near Ursa, IL. You can still find her toting buckets and gardening around the farm. She graduated from Unity High School and holds a Bachelor's Degree in Communications from Truman State University in Kirksville, MO.
Melissa married her high school sweetheart Adam and is a thankful mother of three children – Brinley, Brooklynn and Blake. Melissa and family attend the Quincy Church of Christ. When she isn't on the radio waves, you'll probably find her teaching children's Bible classes (a passion of hers), gardening or swimming when it isn't freezing cold.
You probably recognize Melissa from her years reporting for KHQA-TV. She and her husband decided to make a change a few years ago. Now she enjoys time watching her children grow up at home. Melissa also volunteers at school and as a director for the Adams County Fair.
In addition to all this, take up the shield of faith, with which you can extinguish all the flaming arrows of the evil one.
Ephesians 6:16
On-Air Host (Sat. Afternoons)
Kaylee McFarland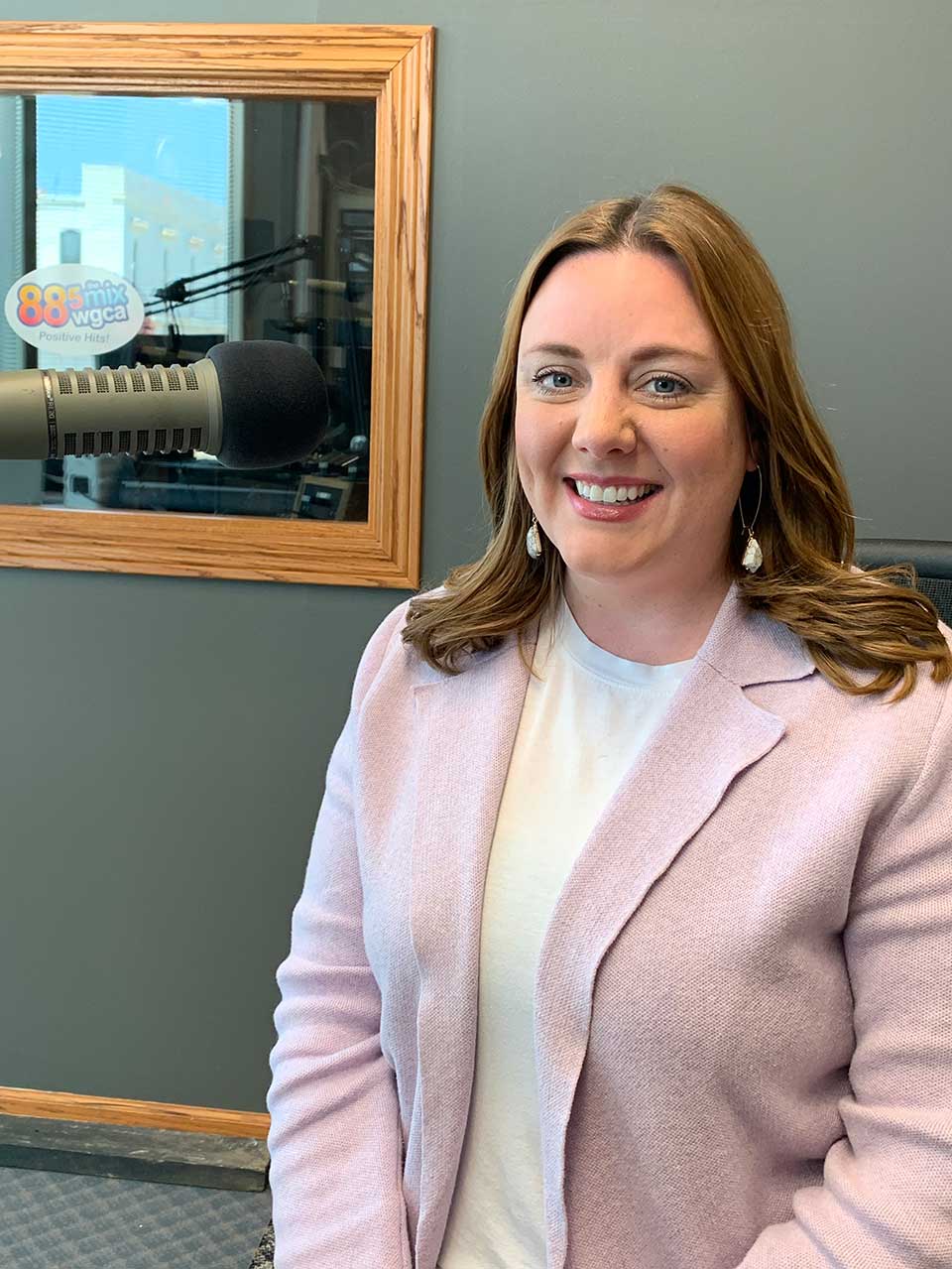 Kaylee was born and raised in Texas, but has immediate family who are all native to the Tri-State area, with many residing in Quincy and surrounding areas. Kaylee attended Texas State University where she received a bachelor's degree in Communications/Electronic Media in 2011. She worked in broadcast news for 8 years, most recently at WGEM-TV in Quincy.
When Kaylee is not on the radio with WGCA, she is working at the Community Foundation Serving West Central Illinois and Northeast Missouri as their development officer. Her goal is to make a positive impact on the community and on those who call this area home; whether that's through donor and nonprofit collaboration at the Community Foundation or through spreading God's word on the radio waves at WGCA.
In her free time, Kaylee enjoys traveling, seeing live music, and most importantly - spending time with her husband, Joe, and daughter, Kirby.
Finally, brothers and sisters, whatever is true, whatever is noble, whatever is right, whatever is pure, whatever is lovely, whatever is admirable – if anything is excellent or praiseworthy – think about such things.
Philippians 4:8
On-Air Host
Logan Kammerer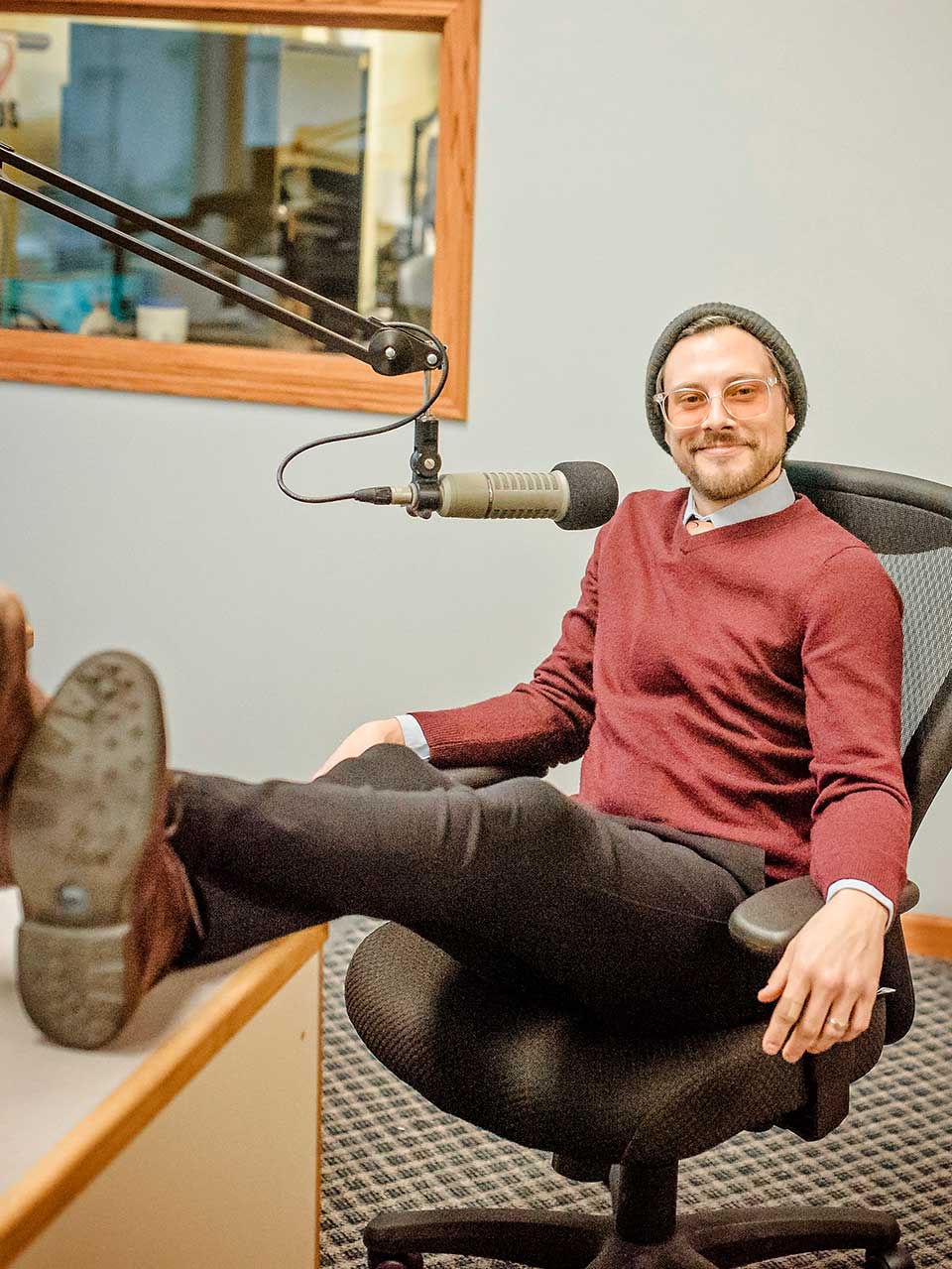 Logan Kammerer is locally grown here in Quincy Illinois.  A graduate of Quincy Senior High School where he met his wife Mackenzie while sitting across from her at the lunch table, never envisioning the life they would have together.  After a life now more together than apart, they have four beautiful children, Aria, Everly, Hugo, and Lyra.
Since the age of fifteen, he has worked many positions but the one that rings true and stands strong is music.  He has worked as a musician in the surrounding playing locally every week in a variety of settings.  When he's not working or gigging he and his family love spending time bike riding, reading, enjoying the outdoors, family game and movie nights, but most importantly painting and listening to vinyl records in their art room.  "We spend a substantial amount of time practicing and expanding our abilities in art and music, we LOVE it."
He and his family attend Madison Park Christian Church where he occasionally plays with the worship band.  They are involved in group life and sharing the wonderful word of God.
They work to live by the Golden Rule, striving to teach their children the importance of kindness, empathy, and perspective.
On-Air Host (Afternoons-Evenings/Mon-Fri)
Dusty ("DC") Carlisle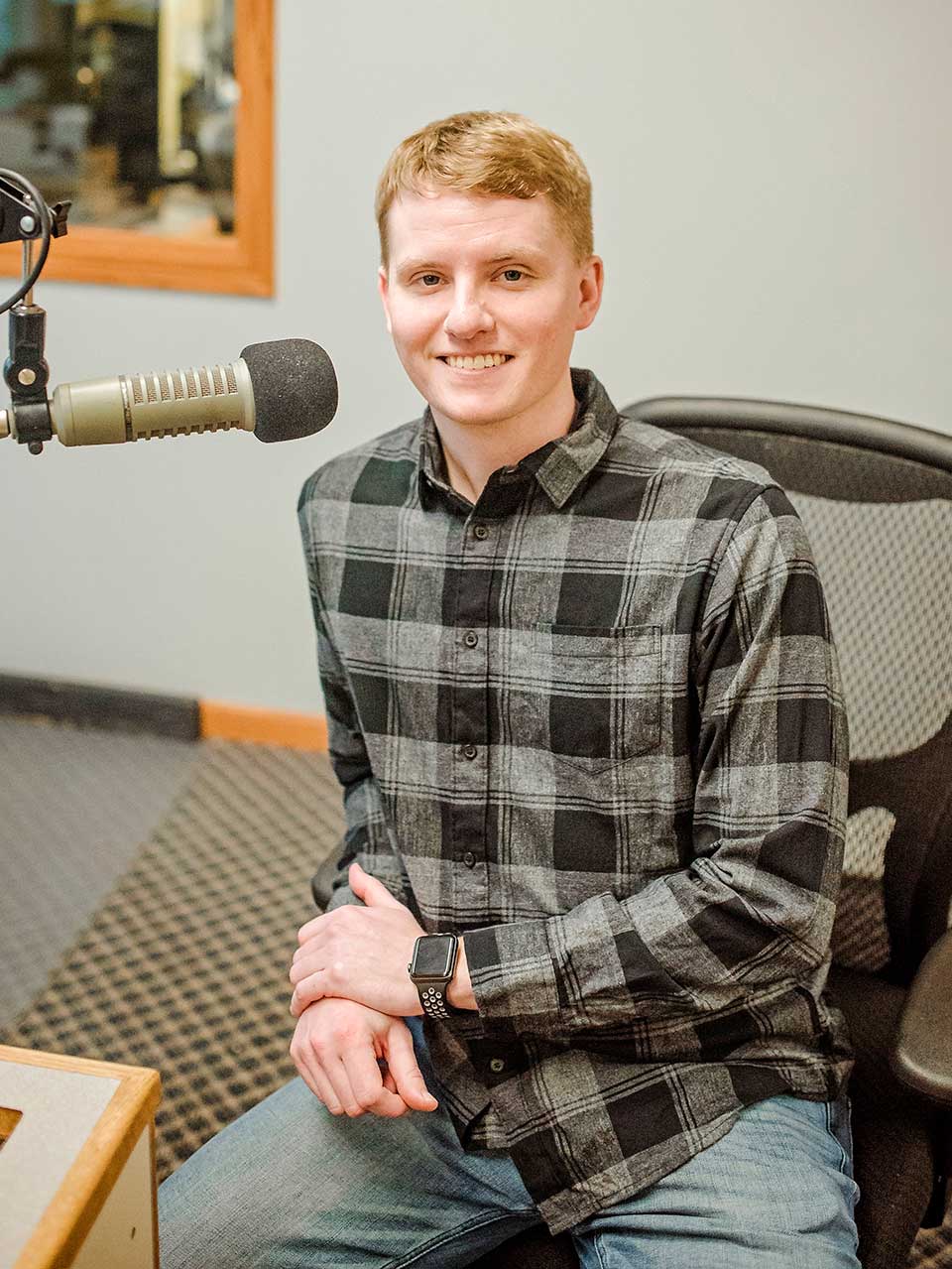 Dusty Carlisle is a confident young man who isn't afraid to share God's word. This DJ grew up on a family farm north of Carthage, raising hogs and cattle. Dusty attended Illini West High School and completed his bachelor's degree at Southern Illinois University in Carbondale, IL. Currently, he and his family attend Burnside Christian Church. He enjoys collecting vinyl records, biking, as well as listening to entertainment and sports radio shows. Eating a special treat from Dairy Queen and hang out with friends is a highlight to Dusty! He is a simple man, with fantastic hair, that enjoys the little things in life.
Now all has been heard; here is the conclusion of the matter: Fear God and keep his commandments, for this this is the duty of all mankind.
Ecclesiastes 12:13
On-Air Host (Saturdays and Sundays)
Broc Hampsmire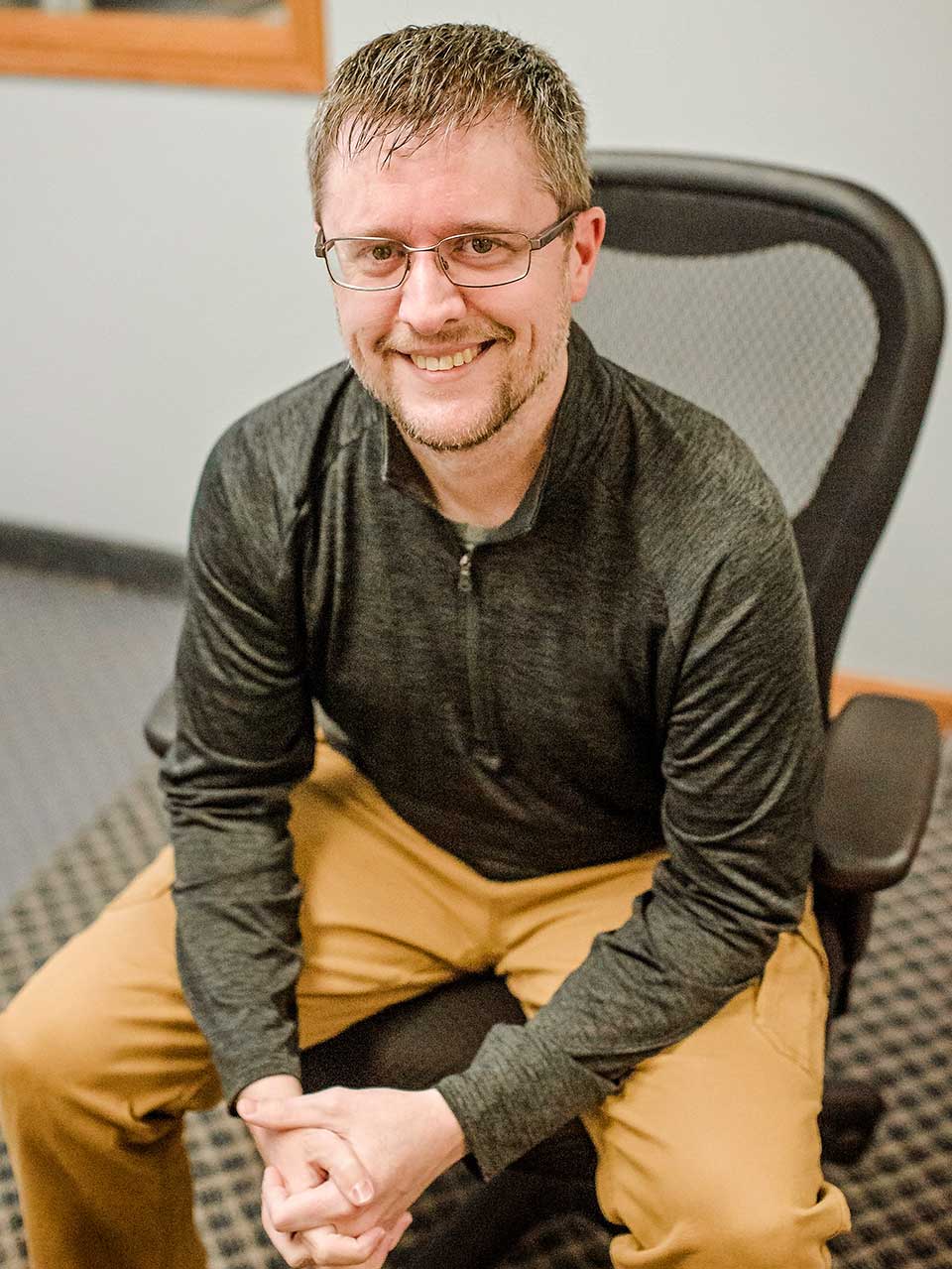 Broc Hampsmire is WGCA's new voice on Sundays and is eager to see the gospel of Jesus Christ spread throughout the Tri-States! Broc grew up in Liberty, IL but has called Quincy home for nearly half his life now. He acquired an associate degree at John Wood Community College and his bachelor's degree in communications at Culver-Stockton College in Canton, MO.
Broc is married to Rachel, a nurse, and they have two beautiful daughters Anna and Emma. They currently attend The Crossing 929 church in Quincy, along with regular small group meetings among other families in the church. In their spare time they enjoy going to the park and watching movies as a family.
Trust in the Lord with all your heart and lean not on your own understanding; in all your ways acknowledge him, and he will make your paths straight.
Proverbs 3:5-6
DONOR RELATIONS DIRECTOR/ON-AIR HOST (OVERNIGHTS/SAT MORNINGS)
SIERRA BROWN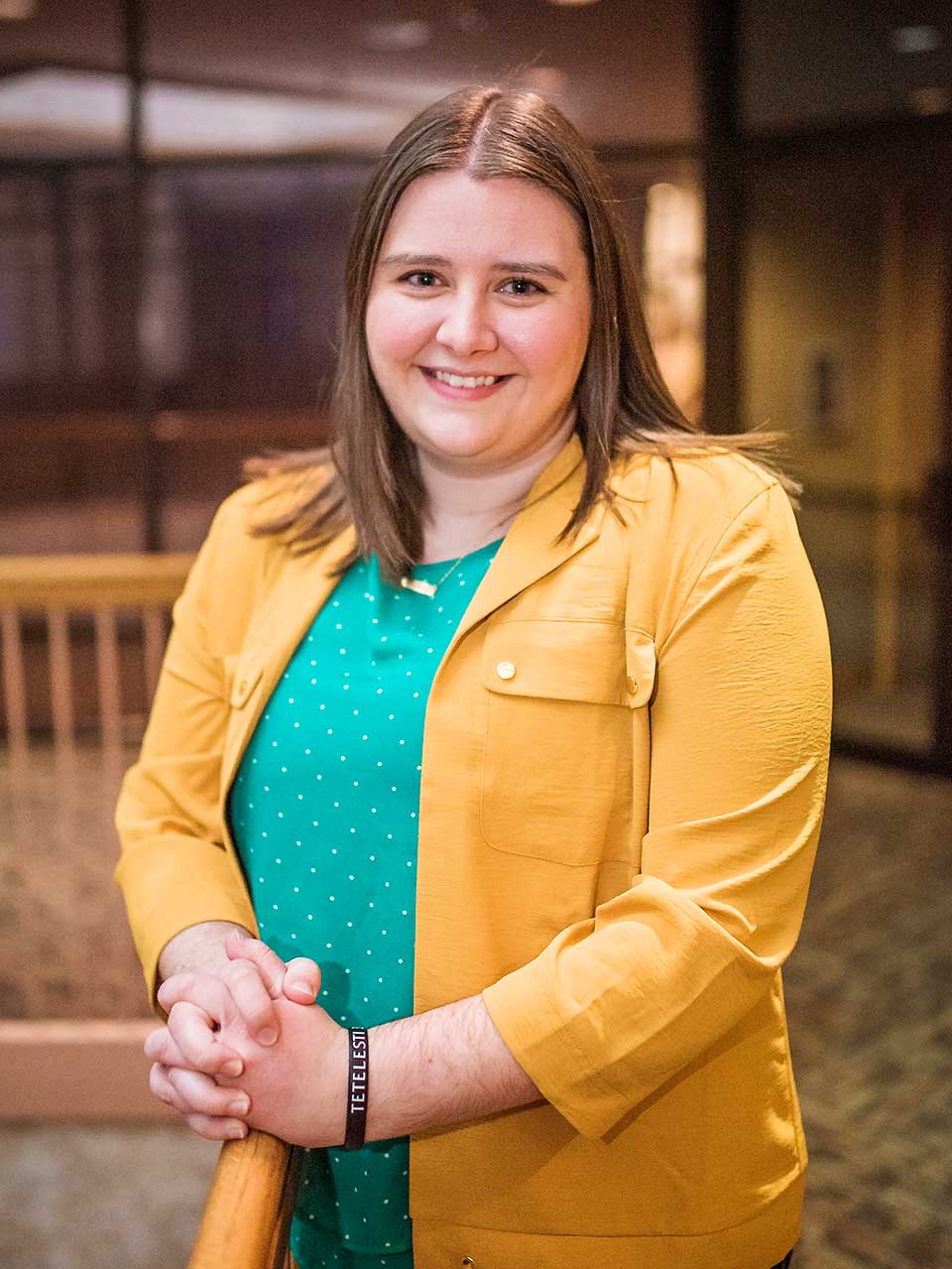 Sierra grew up in Monroe City, MO. She was homeschooled from Kindergarten all the way through high school. Sierra attended Hannibal-LaGrange University where she received her bachelor's degree in Media Communication in 2018. She worked in news for two and a half years before starting at WGCA in January of 2021. Sierra currently lives in Hannibal and attends Resurrection Church in Eolia, MO. She has also had the privilege to go on four mission trips to Haiti and is always ready to tell stories about it!
Sierra has been listening to The Mix since she was 13 years old which helped inspire her to pursue a career in Christian radio. She was actually WGCA's summer intern in 2017, and she is extremely excited to be back!
When Sierra isn't working, she loves listening to music, being with friends and family, reading, and watching movies.
And I am sure of this, that he who began a good work in you will bring it to completion at the day of Jesus Christ.
Philippians 1:6
On-Air Host (Overnights)
Kevin Bradford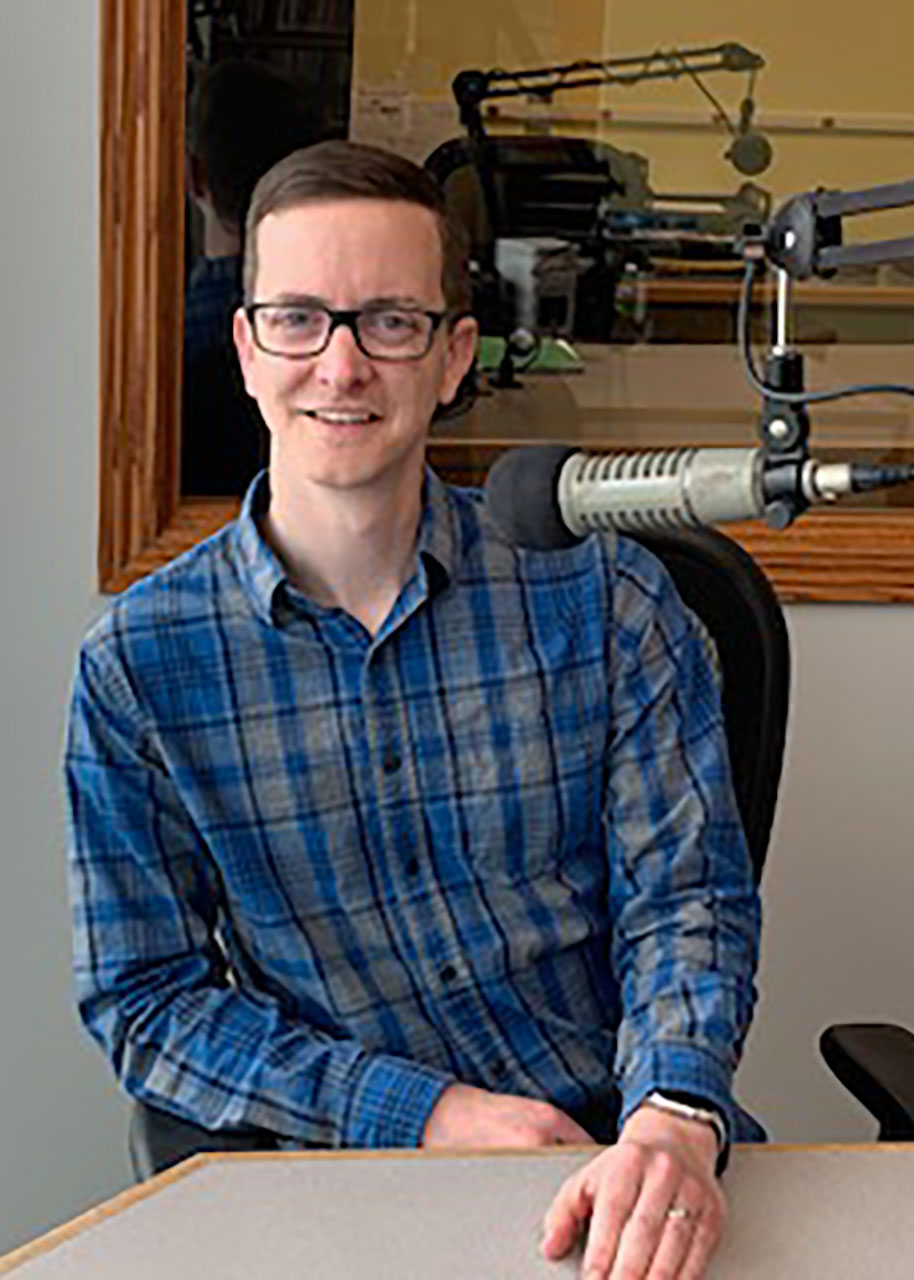 Kevin is a native of The Hawkeye State. He was born and raised in Des Moines, Iowa. When he was not attending Des Moines East High School or working in the projection booth at the local movie theater, he was at the airport, earning his pilot certificate. Kevin finished his aviation education in Dubuque, Iowa and earned a bachelor's degree in Flight Operations and Aviation Management from the University of Dubuque. After graduation, he became a flight instructor and taught aviation at his alma mater for 8 years. His experience and passion for aviation have allowed him to earn the highest certificate in the aviation industry, the Airline Transport Pilot Certificate. When Kevin is not on the radio with WGCA, he is working as a professional pilot for a local business.
It was in Dubuque that he met his wife, Anna. Together, they have 2 busy boys, Noah and Zachary. They have called Quincy, IL "home" since 2016. They currently attend Madison Park Christian Church where they are actively involved in the music ministry. When they are not making music at church, they are usually making music at home, playing outside with their boys, attending a sporting event, or hosting a small group in their home.
The Bradford family encourages you to remember John 13:35.
By this everyone will know that you are my disciples, if you love one another.
John 13:35
Executive Director
Bob Daly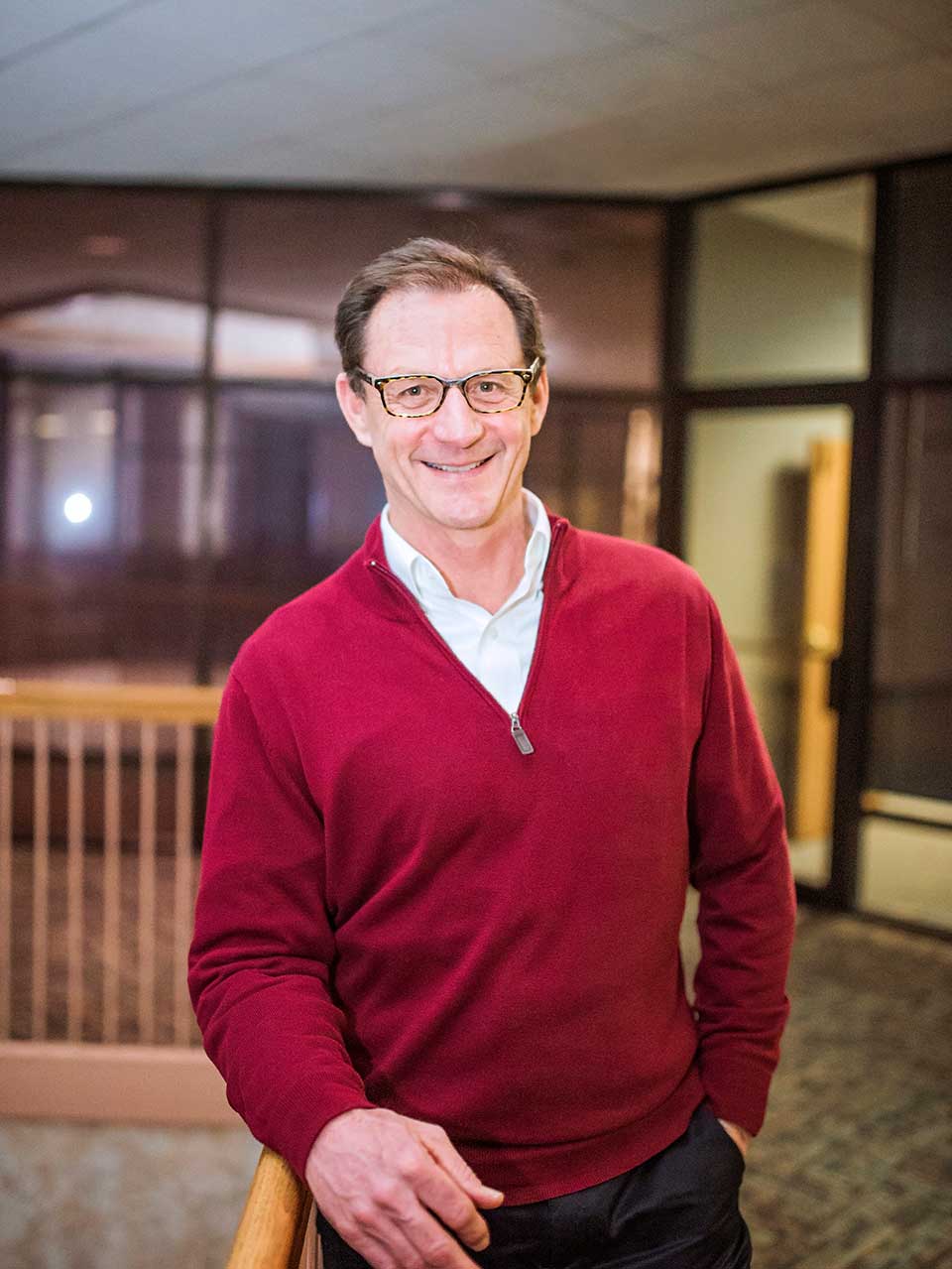 Bob Daly became WGCA's Executive Director in 2021. His positive attitude, one-of-a-kind sense of humor, and ability to have a conversation with anyone and everyone keep us smiling.
Bob was born and raised in Quincy and attended St. Peters grade School and Quincy Notre Dame High School. He furthered his education at Eastern Illinois University and earned a bachelor's degree in Marketing. Bob's father, Tom Daly, and his business partner, Bernie Willer, started Sandy's, which eventually became Hardee's. After college and his father's passing, Bob went into business with Spike Ehrhardt and the two purchased two of the three Hardee's in Quincy. Eventually, he had ownership of eight Hardee's in West Central Illinois. Having business experience, early in life, helped mold Bob to help many businesses in the tri-state area with his positive leadership.
For fun, Bob enjoys boating on the river and keeping busy with all sorts of physical activity such as; biking, swimming, handball, and fitness classes at QU. 
He and his wife, Lynn, are happily married and the couple has four wonderful children; Brittany, Nathan, Alyssa, and Joshua. He is now blessed to have earned the title of grandpa to Charlotte and Maisie Grace.
For God so loved the world, as to give his only begotten Son; that whosoever believeth in Him, may not perish, but may have life everlasting. For God so loved the world that he gave his one and only Son, that whoever believes in Him shall not perish but have eternal life.
John 3:16
OFFICE MANAGER
BARB GIROUARD
Barb really likes being a part of WGCA 88.5 The Mix family … a radio station that she has listened to for many years.
Barb was born and raised in Quincy.  She then left for several years and joined the United States Air Force with whom she was honored to serve for 5 years as an Accounting & Finance Specialist.  After traveling near and far, and seeing many parts of the incredible world created by God, she decided that Quincy was "home".  Barb is married to Bob (a native of Massachusetts whom she met in Greece).  He came to the Midwest with her and now says he would not live anywhere else.  They are blessed to be the parents of 3 children…..Heather, Paul and Marc, and grandparents of … Lauren & Braden.
Bob and Barb are both Catholic and attend St. Francis Solanus Church.  In Barb's free time, she likes to read, sew, garden, and of course travel.
Now faith is the assurance of things hoped for, the conviction of things not seen.
Hebrews 11:1
Chief Engineer
Michael DeLaRosa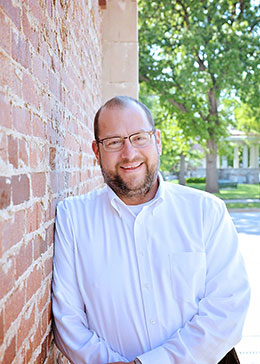 Michael (not Mike, please). I am originally from Chicago, but I have called this area my home since 1999 (and an actual Quincy resident for 3 of those years). One of my favorite activities is to attend the Blues In The District concerts at Washington Park. There is nothing like a warm summer breeze, the sun setting at your back, and live music in front of you.
I LOVE radio. I always have. That is why you might hear me broadcasting on other stations in the area. I also work for WGCA as their Chief Engineer. My duties on WGCA include maintaining and repairing equipment, and keeping 88.5 The Mix! on the air. As long as you are able to listen to WGCA on the radio, then I have done my job.
IT/Digital Media Manager
Russ Smith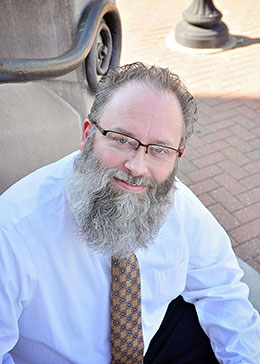 Russ has been the IT Manager at WGCA since 2007 and added the responsibilities of our digital media in 2012. He wears a lot of hats around here: computer and network support, website development, graphic art, social media, and the mobile app! If it has something to do with our computers, he's had his hand in it. He's even coordinated two of our outdoor music events (2007 Battle of the Bands and MixFest 2013). You'll see him getting pictures at our local concerts for use on the web, as well.
He has been happily married to his wife Kimberly since 1992. They are blessed with three children, a son-in-law, and two granddaughters.
In addition to his work with WGCA he is also employed at Knapheide Manufacturing with their IT Department and runs his own digital marketing business out of his home. When he isn't working on computers and websites he spends his time with his family and studying God's Word.
He also serves the Kingdom as the Events and Marketing Director for Love & Purity Ministry, which is dedicated to equipping believers in Messiah to lead a life dedicated to purity and the love of God. He enjoys sharing about his Messianic Jewish faith, helping people to connect with the ancient roots of our faith.
He has told you, O man, what is good; and what does the Lord require of you but to do justice, and to love kindness, and to walk humbly with your God?
Micah 6:8